This report provides an overview of the state of work in the Inland Empire region of Riverside and San Bernardino Counties, an area that accounts for one of every 9 California residents. The region has added over 300,000 jobs since the peak of unemployment in July 2010, with logistics and healthcare driving much of the gains. At the same time, only about 4 in 10 jobs pay enough for working families to make ends meet. This problem is particularly acute for communities of color, a majority of the region's workforce.
Growing employment in health care, social assistance, and education has provided many middleclass jobs for workers and has extended vital services to the public. Yet, many public sector workers in the region are also experiencing economic insecurity from low wages, possible layoffs, and erosion of employment benefits. Educational attainment is also relatively low, constraining the ability of workers in the region to pursue higher paying professional jobs.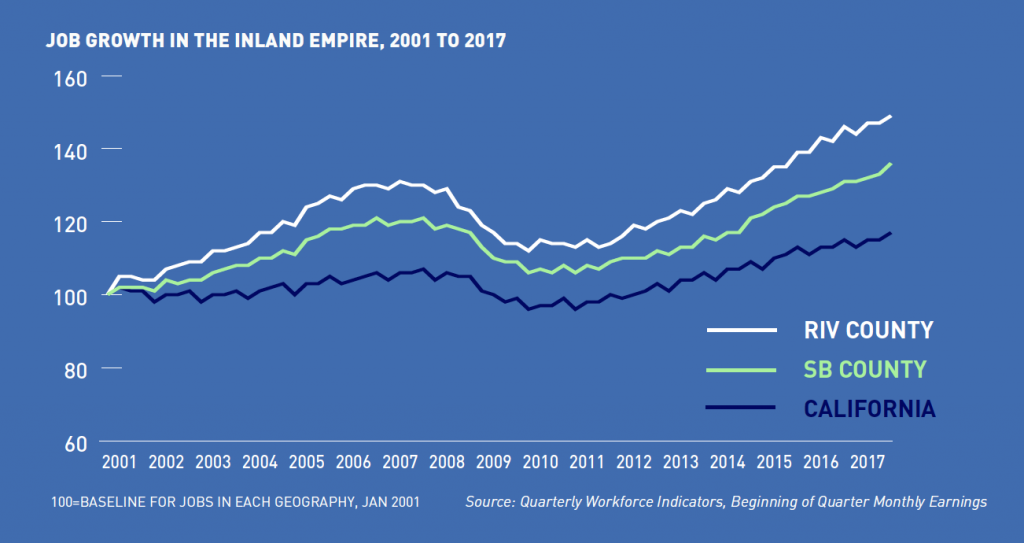 There also appears to be a substantial mismatch between job opportunities and affordable housing in Southern California. Shortages of good-paying job opportunities in Riverside and San Bernardino, along with the lack of affordable housing in neighboring coastal counties, means that over 350,000 Inland Empire residents are employed outside the region.
Economic development strategies also need to take better advantage of progress in workforce development. The region's colleges and universities graduate tens of thousands of students each year, but the growth of high-skilled jobs in the region is too meager to absorb most of these young workers.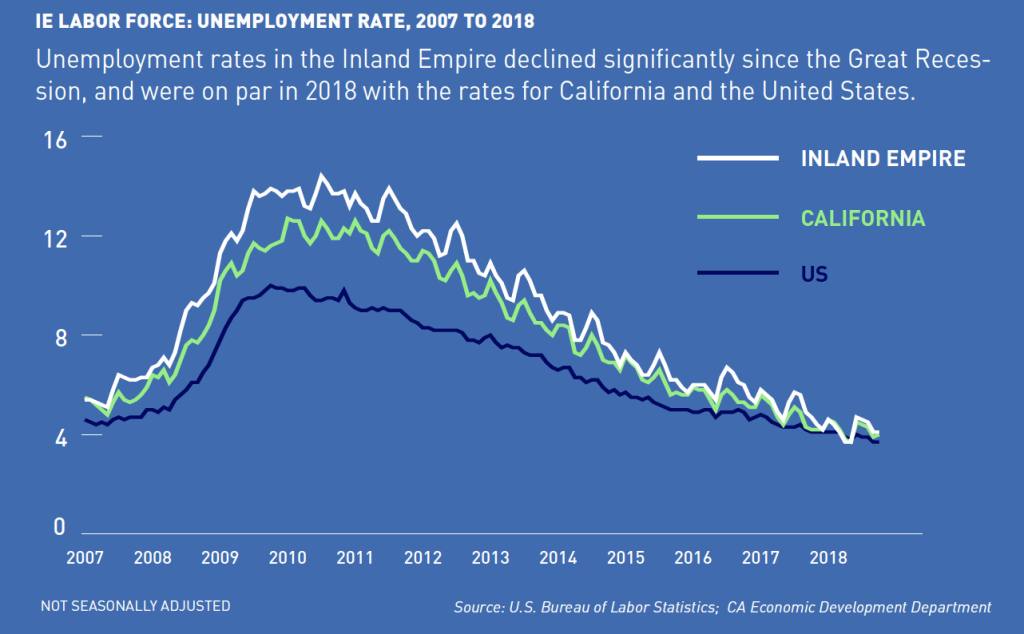 Importantly, various local and regional initiatives to improve wages and benefits and promote economic mobility are underway, and show significant promise. Deeper collaborations between public agencies, businesses, community groups, and labor organizations are needed—to increase public and private-sector investments that attract more highskilled jobs, increase access to middle-skill jobs, and improve the quality of all jobs in the region.
Improving earnings, benefits, and job stability for workers in the Inland Empire would not only help families in poverty, it would also increase consumer spending and local revenues, creating positive ripple effects for the entire regional economy.
Read the full report here: https://socialinnovation.ucr.edu/state-work-inland-empire