Much like in the rest of the country, the historical legacies and contemporary manifestations of racial segregation and discrimination have led to deep inequities in educational attainment in the Inland Empire. Historically, the Inland Empire has been a place where indigenous education was delegitimized and anglicized, and where public education was marked by a high degree of racial segregation and disinvestment in communities of color.
At the same time, the Inland Empire has also been a place of community empowerment and progress. The region spawned great community leaders like Frances Grice who fought local busing laws all the way to the U.S. Supreme Court in 1973. The work of community engagement and empowerment to produce educational equity continues today, as is evident in the various nonprofit organizations we profile. Important, too, are the efforts of allies within government and educational systems, who are working in various ways to reform policies and practices that improve educational attainment, particularly among students of color.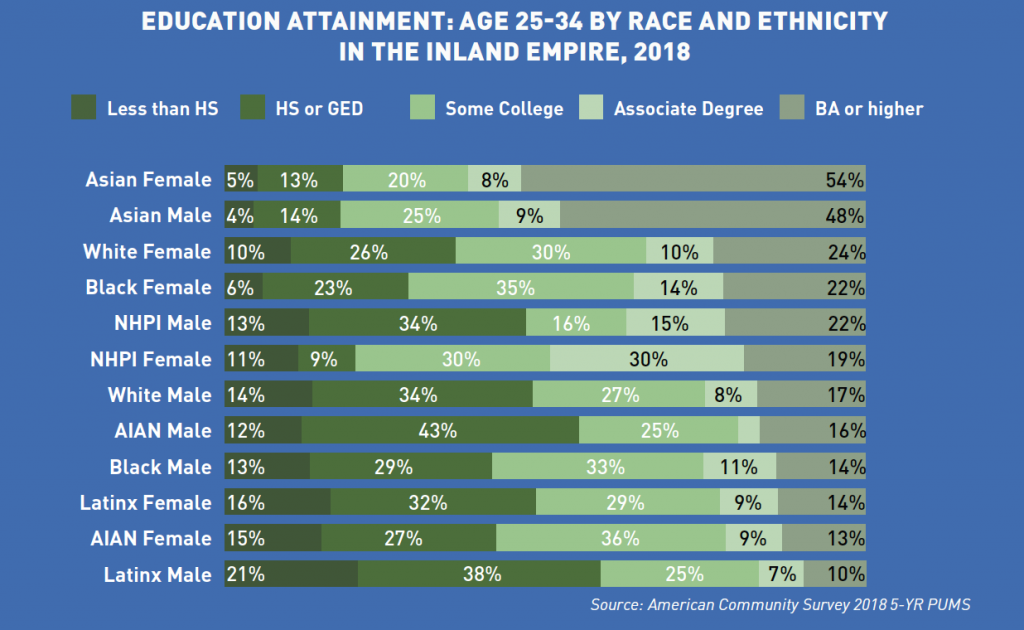 Despite these efforts, we see persistent racial and gender inequities in education in the Inland Empire. School discipline, which has been shown to have detrimental effects on youth well-being and educational attainment, continues to be disproportionately high among Black Black and Native American students. These racial disparities persist, even though there have been some notable reductions in overall suspension rates due to changes in state policy and local practices. In addition to school discipline, deep racial disparities persist on a host of measures ranging from access to early childhood education, to elementary school math and language scores, to A-G completion rates, to college degree attainment.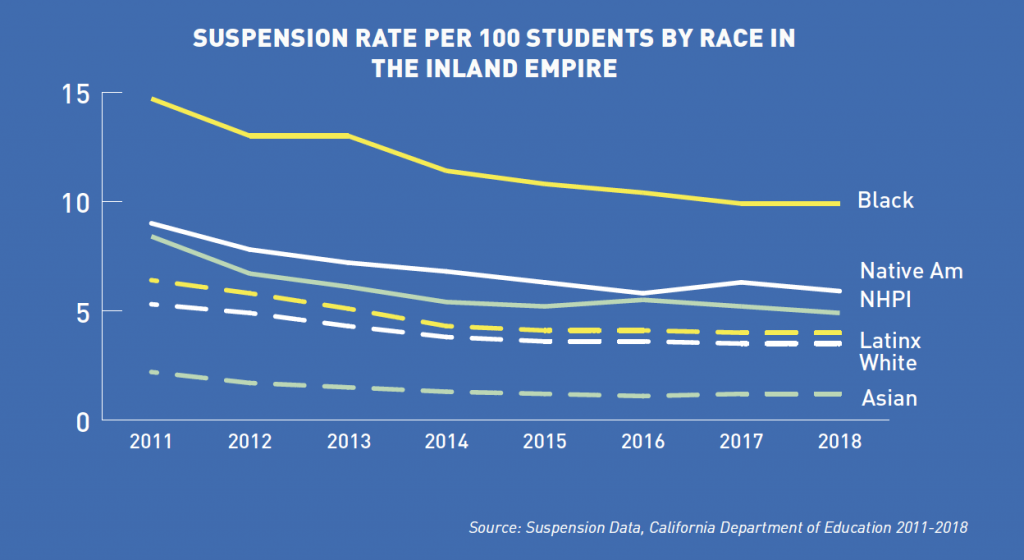 Currently, the push for equity in education is at a cross-roads in the Inland Empire. The COVID-19 pandemic has created the space and opportunity to redesign our systems of education, built on equity and inclusion from the ground up. Important reforms during a redesign include having more representatives school boards, administrators, and staff; greater cultural competency among teachers and widespread adoption of ethnic studies; increased funding for underserved schools and districts; and improvements in the timeliness and comprehensiveness of local data that can improve educational equity.
This report highlights several important partnerships and collaboratives that are already underway, including those focused on "collective impact" involving leaders and administrators across educational and workforce systems. Fostering greater community engagement and influence in these efforts would ensure that these collective efforts move with greater urgency, and have greater impact. 
Read the full report here: https://socialinnovation.ucr.edu/state-education-equity-inland-empire